ORCID dblp Scopus Google Scholar ResearchGate Publons Semantic Scholar
2020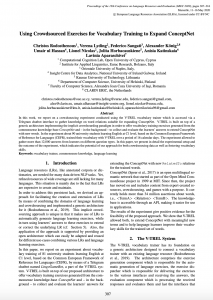 Using Crowdsourced Exercises for Vocabulary Training to Expand ConceptNet Inproceedings
In: Proceedings of The 12th Language Resources and Evaluation Conference, pp. 307–316, European Language Resources Association, Marseille, France, 2020, ISBN: 979-10-95546-34-4.
2019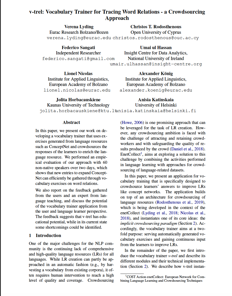 v-trel: Vocabulary Trainer for Tracing Word Relations - An Implicit Crowdsourcing Approach Inproceedings
In: Angelova, Galia; Mitkov, Ruslan; Nikolova, Ivelina; Temnikova, Irina (Ed.): Proceedings of the International Conference Recent Advances in Natural Language Processing, RANLP 2019, pp. 675-684, Varna, Bulgaria, 2019.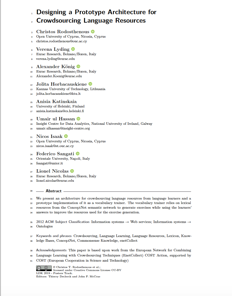 Designing a Prototype Architecture for Crowdsourcing Language Resources Inproceedings
In: Declerck, Thierry; McCrae, John P. (Ed.): Proceedings of the Poster Session of the 2nd Conference on Language, Data and Knowledge (LDK 2019), pp. 17–23, CEUR, 2019.